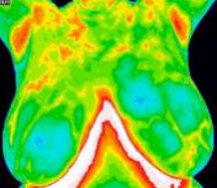 With the growing concerns of inaccurate diagnosis, unnecessary radiation exposure, carcinogenic and other harmful effects of mammograms, Thermographic imaging has become very popular as a safe, non-invasive alternative – and can actually tell a lot more than mammograms can.
The thermal imaging picks up differences in metabolism and activity within the body and so conditions, illnesses and disease can be picked up at the very early stages. When something is picked up so early, we can easily turn our health around for the better.

It is useful not just for breast cancer screening, but for an in-depth look at the root of any condition within the body. It is suitable for men, women, children any age. It is entirely non-invasive and safe.

Thermography clinic is run by qualified thermographers. The images are reported on by doctors who specialise in reading thermal images and a full report is sent to you within a few days of your thermography imaging appointment. Further information can be found at www.thermalogica.co.uk

You can be referred by your GP or other healthcare professional, or you can refer yourself and just book directly.

Prices (subject to change - please see Thermalogica for up to date prices):
Breast Scan: first scan = £195, 3-month follow up scan = £95, yearly check up scan = £125

Half Body: Male = £195, Female = £295 (includes breast scan)
Full body: Male = £295, Female = £395 (includes breast scan)
Clinics
Clinics are run at 3-monthly intervals.
The first clinic is Saturday, 20th January 2018.

To book a scan please contact us. We will take your details, and someone from Thermalogica will get back to you to confirm your time and take your deposit.