An advanced form of Colloidal Silver
Handy Silver Spray

The active ingredient in Hydrosol Silver is a unique patented Silver Technology. The spray is 10ppm Hydrosol Silver.



A Stable And Effective Silver Product

Biotech Labs have been able to develop and patent a manufacturing process that creates a potent Silver product.



New Silver Technology

Silver nano particles have been proven to be one of the most effective silver products. They were granted manufacturing patents in 2001 and 2004 with numerous patents currently pending.



(1) As per the biological laws defined in German New Medicine (GNM), rather than an 'immune' system, our bodies actually have a 'support' system that support the healing phase of any Biological Special Programmes that may be running. The healing phase utilizes bacteria and fungi during this phase, and this is when symptoms, including pain occur. As this product is anti-bacterial, we believe it can be used carefully during the healing phase to help reduce symptoms caused by these bacteria. Outside of the healing phase (when there are no symptoms), this product can be generally used in accordance with manufacturers instructions. For more information about GNM, please see:- https://www.shopholistic.com/blog/the-wisdom-of-german-new-medicine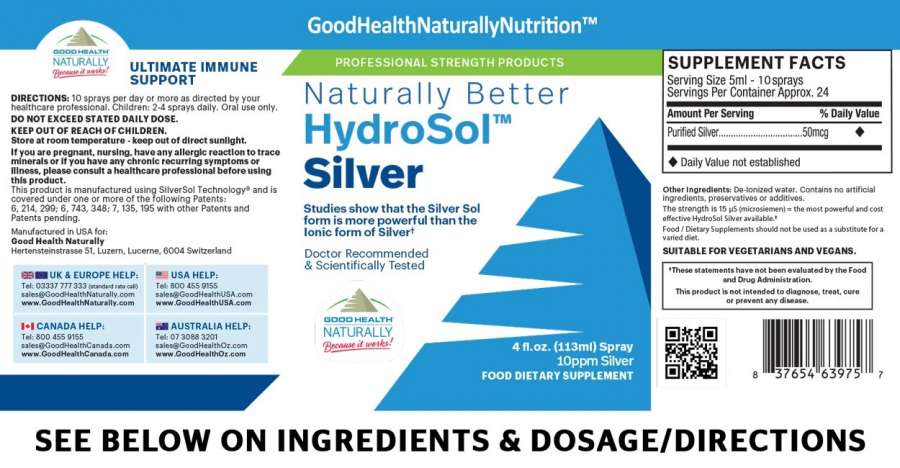 Serving Size: 5ml - 10 sprays
Servings Per Container: Approx 24
---
Directions: 10 Sprays per day or more as directed by a healthcare professional. Children 2-4 sprays daily. Oral use only
DO NOT EXCEED STATED DAILY DOSE.
KEEP OUT OF REACH OF CHILDREN.
If you are pregnant, nursing, have any allergic reaction to trace minerals or if you have any chronic recurring symptoms or illness, please consult a healthcare professional before using this product
Ingredients
Amount
Per Serving
DV*
Purified Silver
50mcg
♦
♦ Daily Value not established
Other Ingredients: Deionized Water.
Contains no artificial ingredients, preservatives or additives.
Suitable for vegetarians and vegans
Hydrosol Silver 10ppm 4fl.oz (113ml) spray
Product Code: HYDROSILVER
Availability:

In Stock
Related Products